Visit Our Store

Moon Marble Company
600 East Front Street
Bonner Springs, KS 66012
913-441-1432
PLEASE READ BEFORE ORDERING!
Shipping may be slightly delayed due to the Corona virus.
Expedited delivery is not available at this time. Also please keep in mind that the 1, 2 and 3 day options posted next to priority mail are an estimation of shipping times offered by USPS and is not a guarantee of delivery time.
If you require assistance or have questions you can leave us a message by phone or email and we will get back to you as soon as possible. Contact us at [email protected] or 913-441-1432
Want to shop at the Moon?
Open by appointment Monday thru Friday
please call ahead to schedule an appointment
Masks are required
Orders may also be called in and we can have it ready for you to pick up at the door.
Regular Store Hours ( closed until further notice)

Monday thru Saturday 10:00am to 5:00pm. closed Sundays
Regular Demonstration Hours
Demonstrations of the Marble Making Process will be given Tuesdays, Fridays, and Saturdays throughout the year providing we have a glass artist available.
Demos begin at approximately 10:30 am, shut down at approximately 3:00 pm. We may run over or finish up a bit early. Marble making is a variable process, so please allow some flexibility.
Bus tours and large groups must call ahead of time to schedule a demonstration Monday thru Saturday. 913-441-1432
We will be closed the following holidays; New Year's Day, Memorial Day, July 4th, Labor Day, Thanksgiving Day, and Christmas Day.
Click Here for Driving Instructions.
There is a new exit for Bonner Springs off of Interstate 70. From the West, take exit 224. From the East, take Exit 224A. Go south on K-7, and then west on K-32.
Pick from the Wall of Marbles!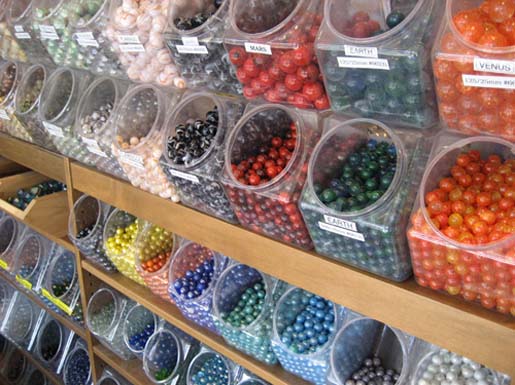 Our Store Contains Traditional Toys, Games, and Gifts!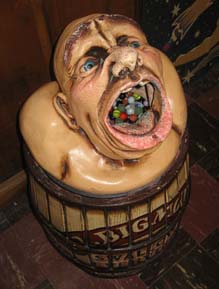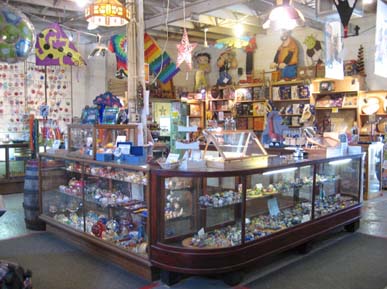 See Marbles Made! Call for Demonstration Dates and Times!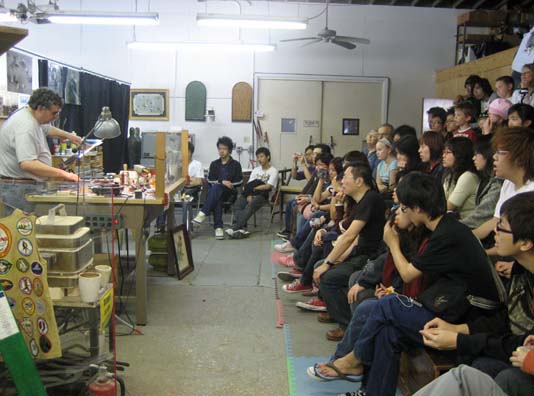 Contemporary Marble Showcase & Owners Bruce and Lynda in Front of Store
These marbles were made at the Moon!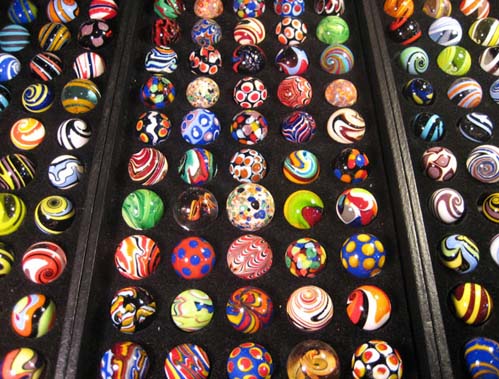 Don't forget to visit our Moon Marble Museum, Museum Bathroom, and the Gem and Fountain Room!