Regular Store Hours

Tuesday thru Saturday 10:00am to 5:00pm
Closed on Sundays and Mondays

Demonstration Hours

Demonstrations of the Marble Making Process are given Tuesdays, Fridays, Saturdays, and Sundays during the holiday season providing we have a glass artist available. Demos begin at approximately 10:00am or 10:30 am, shut down at approximately 3:00 pm. We may run over or finish up a bit early. Marble making is a variable process, so please allow some flexibility.

Bus tours and large groups must call ahead of time
to schedule a demonstration Tuesday through Saturday. 913-441-1432


Holiday Hours

Tuesday thru Saturday 10:00am - 5:00pm
The Moon Marble Company will also be open the following Sundays in 2014;
Nov. 30th, Dec. 7th, 14th, and 21st.
10:00am - 5:00pm

We will be closed the following holidays; July 4th, Thanksgiving Day, Christmas Day, and New Year's Day.


---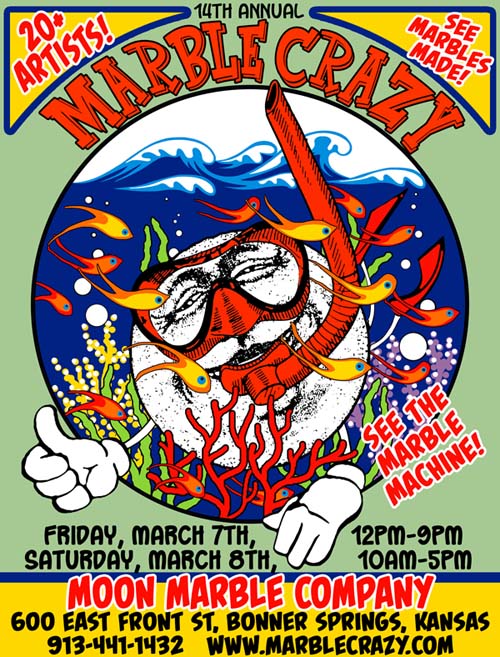 Marble Crazy 2014

Friday, March 7th, 2014, 12:00 noon - 9:00 pm
Saturday, March 8th, 2014, 10:00 am - 5:00 pm

This is our annual artist show that features approximately 20 artists and 4 demonstration areas. The artists will be working in 2 furnace working stations, a furnaceworking or glassblowing station, and a marble machine! Go to
www.marblecrazy.com
for more information.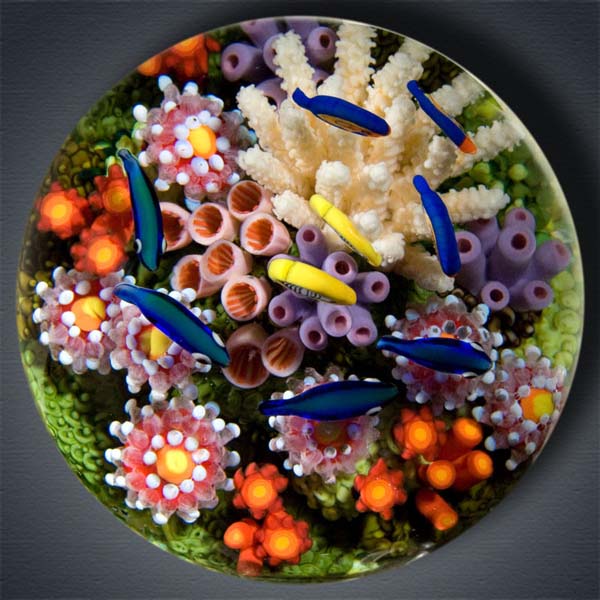 "Australian Coral Reef" by Marble Crazy 2014 featured artists, Cathy and Colin Richardson
Cathy Richardson and Colin Richardson will be giving an Exclusive Preview Demonstration of their Encasement Technique
Thursday, March 6th
10:00am - 3:00pm
(Registration Required)


---




www.marbleday.com has more information about the event!!!

Saturday May 3rd, 2014 9:30am - 2pm

Moon Marble Company is hosting its annual Marble Tournament at "Marble Day". The tournament is open to all boys and girls 15 years old and younger. For official game rules, click here.


---

Kansas City Renaissance Festival

Open weekends August 30th to October 13th, 2014
plus Labor Day and Columbus Day

10:00 a.m. to 7:00 p.m.

More info on the Kansas City Renaissance Festival


The name of our shops are Snooks and Crannies and Snooks by the Gate.
Shop numbers 207 and 647

Photos of our shops at fair

We will have marbles and Marble games available at festival as well as toy swords and shields. See you there!


---
Moon Marble Company is very excited
to be one of the:
Go here to see the other 7 Wonders
and info about the contest.

---

Moon Marble Company is on Facebook! Like our page www.facebook.com/MoonMarbleCompany


---
Check out the Kansas City Marble Club www.kcmarbleclub.com